Comments, Critiques And Criticism Received
Ken J., "I guess it is useful to have it as an app. I hope it makes you some good dosh."
Robert A., "Nice job Martin ... very cool!"
Mark B., "I suggest heavy facebook work"
John F., "Congrats to you. it looks dead good. you must be proud. well done!"
Michelle C-K., "congrats! busy, busy!"
Jean D., "Wow! Hearty congratulations! Your ingenious Chord Board is now an iPhone app. Way to go!"
James B., "Chord Board looks great! Congrats! :)"
Antonia V., "What is a chord board app?"
Lisa N., "Wow! this is a big deal! congrats.... how did this happen? it's cool...."
Gary S., "This is practically a perfect app. As it is, your app is a very helpful musical tool."
R. Jill Van M., "Very cool App - just purchased and will play around later today."
Paul S., "Cool Martin! Did you do the iphone app programming yourself?"
Eddie M., "Congratulations on the iTunes app."
Greg S., "Nice story about Chord Board's realization as an iPhone app. I found it inspirational."
Dave B., "'It all looks really great. As apps go it really is a useful one."
Famous Why Editor, "The Chord Board has a simple and intuitive interface (nothing too fancy but, from my point of view, this is a great thing). It has been granted the Famous Software Award to recognize software with innovative and efficient ways to reflect the best relationship with users, assuring their satisfaction."
John R. / Datalizer, "Good luck with the app sales."
Nardo Style, "Great job. This is a great app for learning how to play the piano. It's fun and easy to follow."
Onlyonenotbeingpaid, "Ha! The sliding rule? ... That was pretty cool! I usually write reviews only if it's a bad app so that developers can't toot their own horn and rate their POS 5 stars. But this was a nice surprise. Very easy and convenient."
Stephanie T., "I checked out your Chord Board and I am impressed. I can't believe you made this 30 years ago."
Martin B., "Really nice App."
Andre, "ich hab mir Heut die App für mein iPhone runtergeladen und bin echt super zufrieden."
Derek R., "Interesting application of the slide rule idea, thanks!"
Mike K., "Nice. I'll be adding it to the museum slide charts gallery."
John W., "I think this gadget would be a great help in arranging tunes for my various organettes."
Dave R., "Normally such aids are on the dull side. In contrast, your design is colourful and eye-catching."
Jeff C., "Your original patented invention helped me learn guitar when I was younger.  In fact I'm playing now, thanks!  The only thing cooler than fixing jets is knowing the theory of playing guitar or perhaps both :)".
Dr. Rupert Ridgewell (Curator of Printed Music, The British Library, London, U.K.), "I would be delighted to receive a copy of your Chord Board as a donation to the British Library.  I look forward to receiving it!"
Dr. Elizabeth Bruton (Curator of Technology and Engineering, The British Science Museum, London, U.K.), "I am delighted to confirm your Chord Board has been accepted into our collections and look forward to receiving it.  Thanks again for your generous offer."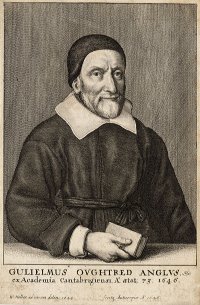 Sir Mark Featherstone-Witty OBE (The Liverpool Institute for Performing Arts Learning Group) "Well, dear Martin, what a lovely surprise, it was quite an invention – what a good man you are."
William Oughtred - British (1574-1660) - an ordained Anglican minister, is considered the true inventor of the slide rule (1625) by taking two of Edmund Gunter's lines (scales) and sliding them relative to each other thus eliminating the dividers.
He also introduced the "x" symbol for multiplication, as well as the abbreviations "sin" for sine and "cos" for cosine in his Clavis Mathematicae (1631), composed for instruction of his pupil, the son of the Earl of Arundel.
Oughtred was born and educated at Eton and at King's College, Cambridge, of which he became fellow.
Being admitted to holy orders, he left the university about 1603, and was presented to the rectory of Aldbury, near Guildford in Surrey; and about 1628 he was appointed by the Earl of Arundel to instruct his son in mathematics.
He corresponded with some of the most eminent scholars of his time on mathematical subjects; and his house was generally full of pupils from all quarters.
Oughtred published, among other mathematical works, Clavis Mathematicae (The Key to Mathematics), in 1631; a treatise on navigation entitled Circles of Proportion and the Horizontal Instrument, in 1632, which described the first slide rules and also sundials, works on trigonometry and dialing, and his Opuscula Mathematica, published posthumously in 1676.